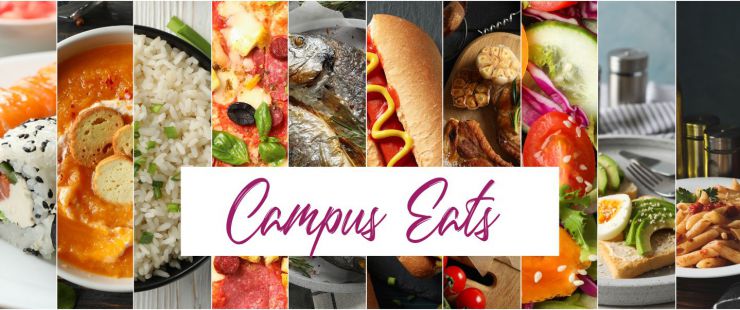 Campus Eats
Offers a wide variety of bars, cafes and restaurants on the stunning grounds of the University of Stirling and they are open to everyone - local residents, visitors, students and staff. In addition to 8 venues throughout the campus there is the Stirling Court Hotel with its bar and restaurant menus, tribute nights and celebration events including Christmas.
Whether it's authentic pizza from our Italian oven, noodles and dishes from the far east, vegan only, healthy options or american diner style, we menus to suit all tastes.
Plus our new Refresh Sports Bar has live sport, a pool table and foosball and a special Sunday lunch option.
Scran
Location: Campus Central
Scran is the home of our most popular pizza made in our Italian pizza oven! However it also offers a wide range of breakfast, lunch, dinner and snack options. Burgers, chicken wraps, hot and cold grab and go, coffee and cold drinks as well as an extensive deli bar for made-to-order sandwiches, wraps and build-your-own salad boxes.
Scran opening hours
Monday to Friday: 8.00am to 10.00pm
Saturday and Sunday: 10.00am to 8.00pm
Refresh Sports Bar
Location: Willow Court
Our sports bar, located within Willow Court student accommodation serves a delicious American-style diner menu featuring our all-day big breakfast plus a range of burgers, flatbreads, salads, comfort foods, sharing plates and sides, not to mention the Sunday roast! Refresh offers barista coffee and a selection of other hot and cold drinks as well as a fully licensed bar. A place to meet with friends, enjoy a game of pool or table foosball, watch your favourite sport live or chill out.
Refresh opening hours
Monday to Sunday: 11.00am to 10:00pm
Umami Noodle Bar
Location: INTO Building
Umami features our authentic noodle bar with a choice of noodles, broth and toppings as well as a wide range of delicious sides including Hoi Sin duck spring rolls, jumbo chicken wings, garlic and sesame seed broccoli and Chinese mustard greens. Plus your choice of pho soups and our wide 'Wok and Go' range.
Umami opening times
Monday to Friday: 11.00am to 5.00pm
Nourish
Location: Sports Centre
Nourish in Sport offers a range of hot and cold drinks and food items throughout the day, to suit all appetites. Whether it's pre- or post-workout or just a relaxing lunch or coffee with friends, Nourish features freshly prepared daily specials as well as grab-and-go eats, a deli bar with salad, wrap or sandwich options and a smoothie station.
Nourish opening hours
Monday to Friday: 7.00am to 8.00pm
Saturday and Sunday: 8.00am to 6:00pm
V-Go SUP!
Location: Campus Central
The place to go for all things plant-based! With vegan breakfast, lunch and snack options available throughout the day, in addition to speciality coffees and drinks and a range of vegan sweet treats. For lunch, choose from the V-go vegan deli bar, a wide range of vegan hot and cold grab-and-go items, fresh homemade soup or loaded baked potatoes.
SUP! opening hours
Monday to Friday: 8.00am to 5.00pm
Macrobert Arts Centre Café Bar
Location: Macrobert Arts Centre
Relax with a barista coffee, hot or cold drink and a choice of sweet treats throughout the day. For lunch enjoy a wide range of hot and cold items including paninis, burrito wraps, sandwiches and baked potatoes.
Macrobert Café opening hours
Monday to Sunday: 10.00am until late
Pathfood
Location: Pathfoot Building
Currently open for study and relaxation. Opening Monday 3 October.
With foods from around the world, staff, students and guests can enjoy hot dishes including Mexican on Mondays, Italian on Tuesdays, currys on Wednesdays, Tastes of Asia on Thursdays, and chip shop Fridays.
If you are looking for something less filling, you can choose made-to-order sandwiches, wraps, and salads from our salad and deli bar daily.
At Pathfood, you can sit and enjoy your lunch with views of the Wallace Monument and Stirling Castle.
Pathfood opening times
Monday to Friday: 12.00pm to 2.00pm
Closed for exams
The Pod
Location: Pathfoot Building
Located in the Pathfoot Building, the Pod is a great place to grab a barista beverage. You can also choose from a wide range of hot and cold food items, including hot specials such as pasta and curry pots, savoury pastries as well as wraps, sandwiches and fruit – everything you need for lunch.
The Pod opening hours
Monday to Friday: 8.00am to 4.30pm
Work for Campus Eats!
We are looking for students from across the world to help influence food offerings and quality. To apply pick up an application from Scran, email campuseats@stir.ac.uk or telephone 01786 451666.
We are proud to pay the real living wage of £9.90 per hear
No travel as all jobs are on campus!
Flexible hours to suit your study
Multiple roles including bar assistant, food preparation assistant, food and beverage assistant, barista and more.
To apply click here